Br. Daniel from Samarate - Biografy
---
---
---
They repeat with deep emotion:
"Nunca, Nunca!"
the words that Frei Daniel was supposed to have heard from the Virgin herself:
"You will not be cured! No, you will not be cured! Go back! You will receive another grace!"
While traveling through the Italian peninsula, from north to south, Frei Daniel walked with his usual devotion into a sanctuary. It is not clear whether it was Orvieto or Lanciano, where the Mystery of The Eucharist, the Body and Blood of Christ is kept. He knelt and asked for healing, but he heard the usual voice:
"Frei Daniel, don't you want to suffer?"
Frei Daniel jumped to his feet and promptly answered:
"Quero!" ("I will!")
and he immediately came out of the church without asking for an explanation. While telling us this story, the old woman was filled with emotion and excitement.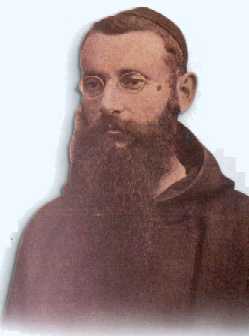 Vice Postulazione di p. Daniele
Viale Piave 2, MILANO
ITALIA
Tel +39 02 771221
Fax +39 02 77122250
E-Mail: padredaniele @ tiscali.it
Vice-postulação
Rua Epitafio Cafeteira s/n
Vila dos Frades / Coroadinho
65044-130 SÃO LUIS
MARANHÃO – Brasil
E-mail: freidaniel1924 @ gmail.com

Frei Apolonio Troesi