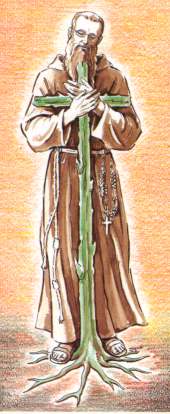 FREI DANIEL:
AN INSPIRATION TO ALL

To conclude our tale, let us observe this last painting with the House and the Church surrounded by the lush green forest created by God , and the figure of Frei Daniel sitting within.
This painting tells Frei Daniel's story.
He lived his life in the service of God, accomplishing so much good with passion and enthusiasm.
He served with joy and gratitude and willingly chose to bear a tremendously heavy cross.
The little House that loving hands prepared for the sanctification of his illness is depicted as being larger than the Church because it signifies Frei Daniel's esteemed participation in the Redemption.
May we be inspired by Frei Daniel to carry out God's will by helping the poorest among us! Amen!