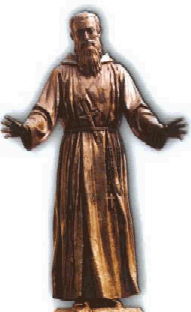 THE SERVANT OF GOD
Frei Daniel's body is quickly buried while a huge crowd of faithful poor, who will never forget him, comes to pay him homage. It is May 19, 1924, a day like any other day of the year, but what rejoicing there must have been in Heaven! More than seventy years after his death, the memory of Frei Daniel is still alive. At our church at Belem (Parà), more people pray to him than to the famous St. Anthony to obtain graces and favors from God. Frei Daniel's altar is in the hallway of the vestibule of the convent, because he has not yet been proclaimed a saint. However, it is surrounded by a much larger number of votive offerings than those displayed on the altar of St. Anthony, the Thaumaturge (the Miracle Worker). This happens, because the needy, the humble and the poor of spirit all flock to Frei Daniel. They linger to pray in front of his portrait that hangs in the halfway. The friars placed it there, because Frei Daniel has not yet been canonized. However, the poor pray to him as if he were already a Saint.
"Vox populi, vox Dei" as the saying goes: "The people's voice is God's voice".
We, the Capuchin brothers of Frei Daniel, finally awakened from our long sleep of indifference and believed that the moment had come to ask the Bishop of Belem and the Vatican in Rome for the permission to start the systematic and canonic processes in order to document his heroic virtues. In the late 1980's, a friar was chosen as a vicePostulator. At the same time, first Dom Alberto Gaudencio Ramos, and then Dom Vicente Joachim Zico, both Archbishops of Belém, forwarded to Rome the petition to start the cause for the Beatification of Frei Daniel. In 1991, the Roman Congregation finally granted the long awaited for permission. The wheels started turning, and today the process continues.
We must mention here the ceremony that marked the official installation of the Ecclesiastical Court that will judge the value of the heroic virtues of Frei Daniel. It took place in a beautiful evening on August 16, 1992, after the Holy Mass solemnly celebrated in the Cathedral of Belem by Archbishop Dom Zico. During his sermon, the prelate delivered very powerful words about our Frei, and called him, "great missionary, great sufferer, glory of the Paraensis clergy." This statement deeply touched all the attending missionaries. Our great shortcoming, that is so difficult to overcome, no matter how hard we try, is the fact that we are foreigners and are therefore unable to become part of and to totally understand a culture which is so different from ours. Frei Daniel, however, is no longer a foreigner, he became one of them. He is the glory of the local clergy. As the servant of God, he gave of himself entirely to help others.