"CONSUMMATUM EST!"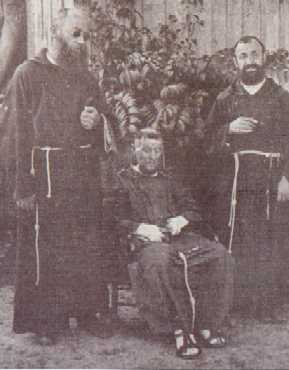 Life at the Leprosarium continues with its ups and downs, with rebellions, with painful and bloody incidents, with small and big commotions, with great pain and rare joy, yet Frei Daniel continues his mission. He is always watchful and alert, and ignores the disease that is relentlessly consuming him. The final, cruel hour of Gethsemane and the Calvary is rapidly approaching. With profound grief, he is forced to give up his ministry. He can no longer walk. He must shut himself up in his house, bedridden with an implacable fever. Like Christ, he drains the bitter cup of his passion to the last drop, offering his life to the will of the Father. His Capuchin brothers from the nearby convent, his lepers and Maria da Penha never leave him for a moment, but the Cross is carried by him alone.
He is the one who suffers up until "Consummatum est!" ("it is finished! ") These words uttered by Christ mark the serene conclusion of a life entirely spent at the service of God. He is now in the hands of the Father. With a tremendous effort, in a hoarse voice, his hands unable to raise the chalice, yet praising and thanking God, who "awarded" him leprosy (this verb can only be his choice), Frei Daniel is still able to celebrate the Mass of his 25th Anniversary. How happy yet how debilitated Frei Daniel was during this solemn ceremony! The day of his death, the day that marks his entrance into Heaven, finally arrives.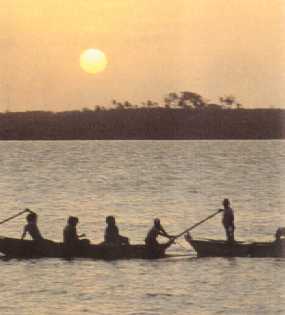 The disease has had ample time to torment him, to disfigure him and to blind him, but his spirit is triumphantly alive within his debilitated body. He receives the last Sacraments and the words that he painfully utters sum up his entire life. The encounter with the One he has served since he was a child, is happening. Those who witnessed his last moments gave us a very moving description of what happened. While reading it, we cannot hold back our tears, we cannot remain detached or passive. We realize that those moments belong only to great human beings whose sole purpose in life is to serve God. Those last words, painfully and randomly uttered, are indeed indicative of the meaningful communication that his soul is having with God. The outward signs that the body is about to be abandoned by that great soul are perceived by the grieving and astonished people who are surrounding him. That is how Frei Daniel, the leper from Samarate, the Christian Mahatma, passed from this life to eternal life with the Father.