THE CHILDREN OF TUCUNDUBA: HIS GREAT JOY
At home, Frei Daniel was cheered by the smile of Maria da Penha who cared for him like a mother. Wherever he went, on the street, in the Chapel, he was always surrounded and followed by a swarm of children, all lepers, of course. Some would pull his clothing, others would hang from his belt or hold his hand as a child would do with his father. These children were his joy. They would give him the courage and the motivation to continue his life as a missionary notwithstanding the many bitter disappointments. He would teach the catechism, especially during Lent, and he would prepare them for their First Communion and their Confirmation. He would devise games to keep them busy and entertain them. The children reciprocated with great love. They studied Christian Doctrine, and liked to sit in the front of the Chapel and made an effort to pray with great devotion, like him. We found a photograph of Frei Daniel surrounded by these young lepers. The sight of these children, already disfigured by the disease, is heartbreaking. None of them are smiling. They are very sad, they wear rags, their feet are naked. Frei Daniel himself is sitting in their midst and his demeanor seems to reflect their sadness. In the Diary, we read that the number of children ranges between 40 and 50, which is quite large since the whole population of the Leprosarium never exceeded 300. These children were inexorably condemned to a life of suffering. At that time, they did not have the drugs that today can stop the disease.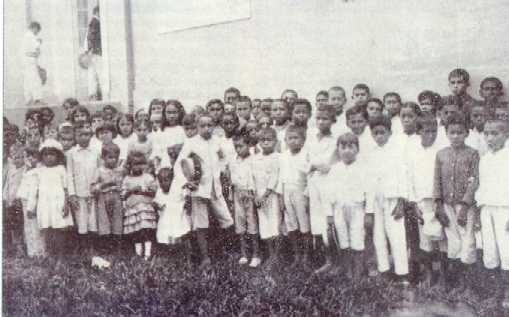 Monsignor Adolfo Bossi, an old missionary Bishop, remembers having met some of these children between 1935 and 1940. Theirs was an entire life of suffering, consumed drop by drop! At Marituba, a vast territory on the outskirts of Belem, which is now entirely inhabited by lepers, we spoke with Noemi, a wonderful lady who was seventy years of age. The leprosy had completely disfigured her body but not affected her soul. She was forced to painfully drag herself because she had lost her legs, and only had stumps instead of hands. She proudly told us that she had attended Frei Daniel's funeral with an aunt who was also a leper. For some time she had even lived in Frei Daniel's little house when it had become available. We will never forget this meeting and the conversation which took place in the late 1980's.