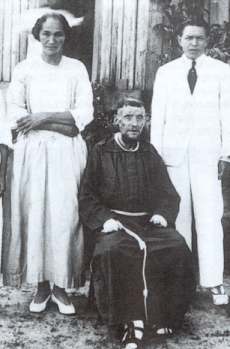 MARIA DA PENHA
Frei Daniel gives all of himself without sparing any energy, until exhaustion. It is part of his nature. At the Leprosarium, if on the one hand he is subjected to insults and slander, on the other he receives love and gratitude. We like to remember the case of Maria da Penha, a former student of the S. Antonio do Prata Boarding School, who courageously enters his service with a dedication and a commitment that touch our hearts. It is a well known fact that, in order to be able to live in Frei Daniel's little house and avoid, in the long run, any gossip about the friar, she decides to marry a leper!
This is easily said and written, but it must have taken great courage and love to do. Let us think for a moment about this young Brazilian woman who devotes her life to the care of two lepers: Umberto, who becomes her husband simply because she wants to live at the Leprosarium, and Frei Daniel, the friar whom she had met when he was a missionary and a brilliant professor at Colonia do Prate, and whom she cannot abandon now.
We feel the need to praise and honor Maria da Penha. She is an example of the same heroism as that embodied in the young Italian Missionary, a heroism found deeply rooted and beautifully blooming also in Santa Cruz, in the great, vast land of Brazil. Although we regard both as exceptionally heroic figures, to them, their actions were innately selfless and humble. After Frei Daniel's death, Maria da Penha lived in reverence of the friar whose body was covered with sores. She would say that his sores did not have an offensive odor, but emitted a fragrance that only she could smell, while Frei Daniel's uncompassionate confessor referred to him as "a bag of rotten flesh".
Maria da Penha always remembered him while she assisted, comforted and took care of her husband, Umberto, until his last day. We hear this story from her children who were born at the Leprosarium in perfect health.
The inspiration of Frei Daniel, the Capuchin priest, remained with Maria da Penha all her life. A Capuchin sister who had the privilege of knowing Maria as a religious instructor, told us the following story with deep emotion: Maria used to explain the Sacraments with stories of her life at Tucunduba. When she spoke about the Eucharist or the Mass, she was so moved that she could not hold back her tears while recounting how she used to help Frei Daniel celebrate the Mass. Since he could no longer handle or raise the chalice, and could not break the Host, having lost his sense of touch as all lepers do, she used to assist him. Maria would firmly press the friar's mangled hands around the chalice so that he could raise it during the Elevation. For his communion, she would hold his gangrenous hands and help him break the Holy Host. She would do all this without wearing any gloves. She felt protected and shielded by her great faith in God.
A Deus Louvado!
"Praise to God!" for the precious gift of Maria da Penha.