TUCUNDUBA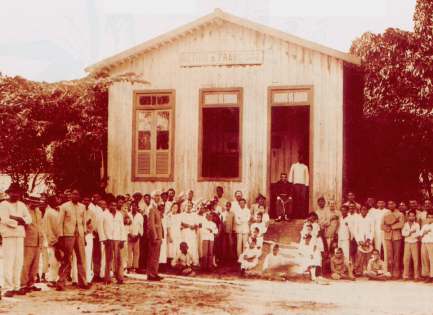 Frei Daniel willingly goes back to his work field, the Colonia do Prata, but he does not settle there because he is afraid to spread the infection. Instead, he goes to the nearby St. Isidoro's from where he directs everything, thanks to the telephone. Thus, the dynamic activity of the Colonia continues and life goes on. Unfortunately, his illness worsens inexorably and it can now be clearly recognized on his face still full of gentleness and determination.
After thirteen years, the moment comes to leave Prata. His superiors transfer him to S. Luis in Maranhão in the hope that the milder and drier climate may be beneficial to his health. He obediently goes there and works with his usual dedication and enthusiasm. However, this new experience only lasts eight months, after which he is back in Parà.
His fate is decided. An unfortunate incident, as we read in the Diary of 1913, reveals to everybody, without any doubt or uncertainty, that he is a leper. He must therefore withdraw. There is no more room for him in the society of healthy people, so he returns to Belem, accompanied by a kind and caring brother. For a few months he lives in isolation, then, of his own free will, with great fortitude and tenacity, he decides to enter the leprosarium. Before leaving to bury himself in that desolate place, he kisses the walls and the doors of his convent, torn by violent emotion, and crying.
In 1914, he writes in his Diary: "Today at five in the afternoon I left my convent to come and live in this desolate place. Oh, my God, how much I suffered!"
Only two people accompany him: Frei Ignazio who is also destined to suffer the atrocities of the same disease and Maestro Antonio, a builder who had worked at the Colonia do Prata. The rest of the people including his fellow friars, abandoned him.
It was necessary to drain the cup to the last drop.
Jesus was alone in Gethsemane!
April 27, 1914, at five in the afternoon, marks the end of a life that had been filled with creative activity, enthusiasm, and feverish exuberance. It is the end, because on that April evening, a totally different life begins. Frei Daniel is heading towards it, but only two people are at his side to help him meet that first impact. From now on, the great missionary whose life was so filled with creative activity and who was able to confront non solvent governors with his firm patience and make them pay what was due to his poor, the missionary who greatly enjoyed traveling in order to see the beauties of the Creation, our Frei Daniel, from now on, will be forced to live there, locked in a new existence. He will experience a life of suffering and a slow death that will last ten long years, from April 27, 1914, to May 19, 1924, the day of his death.